A forklift or lift truck is a serious piece of industrial equipment that needs to be operated and maintained carefully. Operators of lift trucks should be regularly reminded of the common safety hazards that can occur, so that accidents and injury are prevented.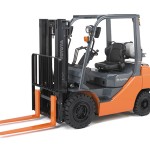 The first line of defense against fork lift hazards is to perform regular maintenance, and a visual inspection, before every use. The company should have specific protocols in place for all lift truck operators to follow. The responsibility for safety is a shared one.
Another way that a lift truck can be dangerous is when people and forklifts are using the same traveling space. If this cannot be avoided, clear markings on the floor should be made, so that anyone who steps onto the path will know that forklifts also use it. So you can see a can of paint can also be a part of your safety supplies.  Anyone using your material handling facility should be made aware of the various rules and responsibilities you have put in place.
A third way that a forklift can be dangerous is if the operator does not look behind every time when backing up. It is very easy to begin reversing the lift truck before looking back. Your forklift operator must be trained to look carefully at all times while backing up.The fourth way that a lift truck can be hazardous is by speeding. Every forklift operator needs to be trained to know what speed limits are allowed within your material handling premises. The speed limit should also be posted clearly for all to see. Generally speaking, setting a speed limit of around 5 mph is safe.
The fifth and final way that lift trucks can be dangerous is through improper storage and placement of products and materials. It is a very easy mistake to think a load is stable when it is not, therefore this stability must be confirmed before the load is left in place.  In addition, if the load packaging is in poor condition, or has been damaged, the forklift operator must be trained to replace or repair it right away. Leaving a damaged pallet wrap can be hazardous to the next person who comes upon it. You also want to ensure that your material handling protocols state that pallets cannot be stacked more than 15' high.  Exceeding that height limit can introduce instability, reduce visibility, and increase fire hazards.
By following these safety tips for proper lift truck operation, your business can avoid workplace injuries and costly damage to goods during the material handling process.  Safety in the workplace is everyone's responsibility.
About the Author
Bahrns Equipment specializes in industrial equipment for industrial needs, such as forklifts, packaging and material handling. Visit the company online at www.bahrns.com to learn more about what they offer, and see how they can become your industrial supplier of choice.

Publishing Rights
You may republish this article in your website, newsletter, ore book, on the condition that you agree to leave the article, author's signature, and all links completely intact.