Warehouse settings require a variety of materials handling machinery designed for the transportation of a number of various styled containers. There are a number of these solutions available in the market. Here are four examples to help you decide which is best for your situation.
Mini-Straddle Carrier
This style of container carrier is commonly found in warehouse or distribution chain situations that require a throughput of 10 to 200 containers a week. The mini-straddle carrier features maneuverability, low axle weight, increased productivity, and improved safety. The carrier permits you to separate transport from operation and then decide when and where to unpack or pack the container.
Container Handling Forklift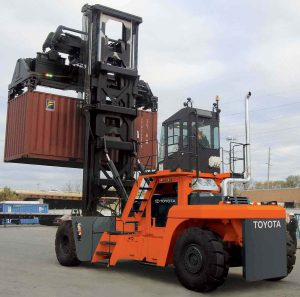 This style of container carrier allows you to stack multiple containers and will suffice if you choose to keep containers for a long period of time.
This machine is ideal for block stacking containers in areas where storing containers is limited. However, in situations in which moving several containers such an operation can be time consuming. You may have to move away several containers away to get to the one that you wish to move.
In a "first in last out" procedure, a container forklift is the ideal tool. However, a 40-foot container requires a very large maneuverability area. This is necessary because containers must be transported width-wise.
In addition, empty container handling forklifts can stack up to eight containers high. Still, a stable and flat surface is necessary to prevent the forklift from tipping over. Container handlers that lift fully loaded containers are very heavy and may be costly to operate. This is because of the high-powered engine included in the machine.
This style of container carrier is ideal for high container turnover.
Reach Stacker
If your warehouse requires moving large volumes of containers and stacking them three high or higher, a reach stacker is the ideal solution. Reach stackers include a telescopic arm that can lift as much as 15-tons to a third level. They can also lift 31-tons up to a second level. Thus allowing containers to be stacked and retrieved at three levels deep. A reach stacker is more versatile than a container forklift. However, it needs a large maneuverability area. In addition, it has a higher axle load than a container forklift.
For stacking containers in more than one row, many warehouses use rubber or rail mounted container cranes. Although it is true that container cranes are an ideal solution for a high turnover operation, they are more expensive than reach stackers. If your warehouse is on a budget, it is suggested that you rely on a reach stacker instead.
Side Loader
This option is versatile and efficient. A side loader traveling with a truck allows you to transport containers anywhere and anytime via road. It operates independently without the support of other equipment when loading and offloading. So a separate container handler is not necessary. If you receive or send out less than four containers a week, a side loader is ideal.
The only disadvantage to this style of container carrier is that it limits the weight of the container due to the weight of the crane. Moreover, once a container is dropped in a yard, it can't be moved.
If your site is some distance from the port, the additional costs of a container delivery using a side loader will add a considerable cost to the normal delivery charge.
(Source: forkliftaction.com)