There is another similar type of racking system designed for boxes. The Carton Flow system allows cartons to slide smoothly, replacing the last carton removed, assuring proper inventory rotation.
Yet another system, the push back system, is made up of a series of nested carts on strong steel rails. This is an ideal solution for pallet storage when density of storage is your priority, because the pallets can be stored as much as four deep.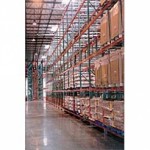 Another space saving pallet rack system has been designed for narrow aisle areas. A specially designed forklift is needed for this kind of system, but it is perfect for high traffic areas where stock is being taken away and replaced rapidly.
Your pallet racks are only the beginning of the decisions you have to make when you're looking for warehouse supplies. Aside from these, what other shelving needs do you have? What about ladders, wire decking and partitions? Do you need modular offices? When these larger requirements are fulfilled, then you need to think about the smaller items. Do you need boxes? What kinds of bubble cushioning do you need for packaging? The list seems almost endless.
Buying warehouse supplies is not a job to be taken lightly. Experience warehouse managers know just what a big job they have in front of them and rely on the expertise of their warehouse supplier. He is the one whose job it is to know everything about the needs of a warehouse. He knows exactly what is needed, from the pallet racks right down to the smallest boxes and everything in between. Let him help you choose your warehouse supplies and you can be sure you've gotten the right supplies for your warehousing needs.