The term, "materials handling" covers a broad spectrum of industrial goods. The most obvious examples of these would be the equipment and containers that are directly involved with the process of moving items. In the industry, however, there are many other products that comprise a complete material handling system.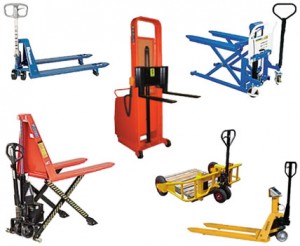 On the warehouse floor, any motorized or manually operated piece of equipment that facilitates the movement of materials is defined as materials handling equipment. A forklift is an example of this. In fact, the forklift is the backbone of the warehouse. All the pallet rack systems are designed to accommodate the forklift. The warehousing industry would not be what it is today without forklifts.
There are dozens of other tools that are used in the warehouse in order to make the moving of materials more efficient and safer for the workers. Once a pallet is on the floor, manually powered pallet trucks are needed to move single pallets from one place to another.
While pallet trucks can efficiently move a full pallet of boxes of goods from one location to another, they are not efficient for moving just a few boxes from the pallet. That's where hand trucks are needed. With a hand truck, the materials handler is able to stack several boxes and easily move them from place to place – out to the loading dock, for instance.
Aside from those pieces of equipment that are needed for moving goods, there are many other things that are needed. In any warehouse, every inch of available space is maximized. This means that many things are stored out of reach. In order to get to them, you may need an assortment of ladders or electronically powered personnel lifts. These, too, are classified as materials handling equipment.