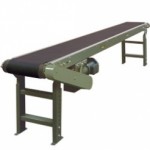 Warehouses are busy hubs of activity, so ensuring safety supplies and safety equipment are monitored and maintained, will make for an accident free operation. You want your workers to be productive and free from workplace injuries, and following the tips for warehouse safety can guarantee that.
Conveyor belts are a common source of worker injury, but there are methods to make sure this doesn't happen at your warehouse. To begin with make certain there are either guardrails or gates in place, as well as an elevated walkway present, so that workers can safely move across the conveyors. If employees need to go underneath moving conveyor belts, it is essential that there are suitable guards in place to prevent the moving parts from grabbing anything that passes by, such as clothing and hair. You should also make sure that the controls for the conveyor belts are easily accessible, clearly labeled, and in good functioning order – this includes emergency stop buttons or cords. These need to be tested on a regular basis as per manufacturer guidelines. As with any piece of industrial equipment, conveyor belts need to be regularly maintained, and records kept of all repairs and maintenance schedules.
Industrial equipment involves numerous moving parts, and they should always have effective safety precautions in place while operating. These safety measures include preventing employee access to dangerous areas by having fixed guards in place. If access to an area of industrial equipment is required, an essential component of the safety supplies is movable guards that have interlocking switches. They will ensure that power is off when the guard door is open. Additionally, the safety equipment should include two-handed controls, which means that both controls must be pressed to start the machine, so that hands or fingers will not be exposed to moving parts.
Safety equipment and safety supplies are not just for industrial equipment, they also applying to loading dock doors.  One of the first things you can do to ensure the safety of your loading dock area is to have vehicle restraints in place. These restraints prevent a semi trailer becoming separated from the dock while it is either being loaded or unloaded.  In addition, a steel barrier can be installed to prevent a lift truck from accidentally falling over the edge of an empty dock bay.  Another way to prevent injury to workers, and from damaging goods, is to install doors that have been engineered for safety with sensors, motion detectors, and infrared detection systems.
Keeping your warehouse safe for material handling by using these safety supplies and safety equipment.
About the Author
Bahrns Equipment specializes in industrial equipment for industrial needs, such as forklifts, packaging and material handling. Visit the company online at www.bahrns.com to learn more about what they offer, and see how they can become your industrial supplier of choice.

Publishing Rights
You may republish this article in your website, newsletter, ore book, on the condition that you agree to leave the article, author's signature, and all links completely intact.