While working outside in the fall is wonderful, there are certain chores that must be completed. It's cooler now so you won't be sweating as much, however, there may be a lot to get done before cold weather comes along. Here are some suggestions to help you with your fall cleanup. We'll show you easy ways to maintain a beautiful yard, from raking up leaves and pruning branches to reviving flower beds and mowing one last time. Be sure to get these tasks completed before the first big snowfall.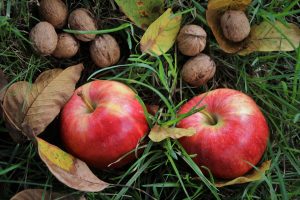 8 Fall Tips for Cleaning the Yard
Rake leaves onto a cheap, lightweight tarp. You can get rid of leaves easier by raking them onto a tarp. Once they're all on the tarp, pull it tight around the leaves and throw the whole thing away. If preferred, you can run a piece of string through the grommets and pull it tight. Mowers with mulching blades also work well.
Rinse out the gutters. There are attachments for your water hose that make it easy to rinse out your gutters from the ground. Once you get all the debris washed out of them, check for damage. Now is the time to repair damaged gutters, before cold weather sets in.
Prune shrubs and trees. Fall is a good time to cut away dead branches from shrubs and trees. It's important to do this because harsh winds can cause dead branches to fall on the house and damage the roof. It's better for the plants too, when you cut away the dead branches.
Mow and edge one final time. You'll like the way your lawn looks throughout the winter if you'll take time to mow, trim and edge once more before cold weather sets in. The yard will look great when it's time to put up holiday decorations.
Protect cold sensitive plants. You may have plants that can't tolerate freezing temps. Now is a great time to cover them so they can survive the harsh winter conditions. There are insulated paper bags and cloth coverings that can fit over plants and keep them safe.
Clean all your tools and put them away. You'll be thankful if you gather up all your tools and equipment, clean them and put them away safely. Once spring comes, you'll be able to find exactly what you need.
Plant bulbs and others that require fall planting. For a beautiful spring garden, it's important to plant any bulbs, shrubs or other things that must be planted in the fall. While you're at it, can add a few fall flowering plants like pansies, crocus, sedum and asters. You'll have a beautiful lawn even in cold weather.
Clean off patios and decks. Once winter sets in, the winds will blow things around the yard. Lawn furniture, toys, tools and other items may get damaged. It's best to put all those things away.
It may take a few weeks to get all these chores done, but once you're ready for winter, you can sit back and relax—for about five minutes. Then you'll realize that it's time to dig out the holiday decorations and get them ready. Thanksgiving and Christmas are on the way. At least your yard is cleaned up, mowed and looks good. Your tools and equipment have been put away. Your deck is organized so those harsh winter winds won't whip things around the yard. Now you can enjoy the holidays. Have a safe and happy winter!
Need a hand?
The Bahrns website has lots of tools and equipment that can help speed up your work. When you have the right equipment, you can get done faster and do a better job.
References:
How To Prep Your Garden for the Cold Months Ahead (realtor.com)
Fall Garden Clean Up: Preparing A Vegetable Garden For Winter (gardeningknowhow.com)