If you have a regular sized yard, then a good Toro or Briggs & Stratton walk-behind mower is perfect for mowing. These are good, solid mowers that will stand the test of time. Of course, they do require regular maintenance. Occasionally, you will need to perform minor repairs. Below are just a few of the minor repairs that you might need to do.
Replace V-Belt
Replace spark plug
Replace air filter
Washers & springs
Sharpen blades
Change oil
These are easy fixes that most owners will be able to do simply by watching a video online. Of course, if you don't like chores like this or you're too busy, find a local mower repair shop and get a good relationship going there. Whatever you decide, annual maintenance is a critical part of making sure your mower will last and serve you for years to come.
Be sure to use manufacturer approved parts. If you use off-brand parts, it can void your warranty. Make a note of your mower's make and model number. This is something that you'll need in order to get the right parts and/or find the right repair video online.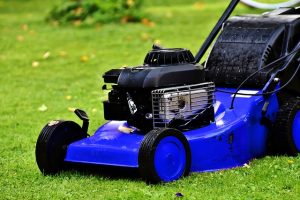 If you're doing the maintenance or repair yourself, find a great spot in a well-ventilated area and on a hard, flat surface. A garage or patio works well for this. If you are concerned about spilling oil/fuel on your garage floor, then put a big tarp down or drop cloth on the floor before you begin.
As you get started, make sure the mower is turned off and the motor has cooled. Unplug the spark plus wire so the mower doesn't accidentally start. For electric mowers, remove the safety key. For some mowers, there are a few prescribed pre-maintenance procedures to follow, so be sure to follow those.
If your maintenance steps will require you to tilt the mower on its side, be sure to drain the fuel from the tank so it doesn't spill onto your floor. You can run the mower until the fuel tank is almost empty. Make sure the dipstick is down, as well and the air filter is facing upwards to avoid getting oil in the engine.
End of Mowing Season Maintenance
Once the season is over, prep your mower for long-term storage so it will be ready for spring.
Mower blade maintenance can be done in early spring or late fall. If the blade is broken or bent, it must be replaced. If it's dull, you can either replace it or you might be able to sharpen it. Replace the dull blade with a new, sharp one as soon as possible to ensure a clean cut. If your lawn mower blades have ragged edges, your lawn is more likely to get diseases. Before you begin, check your owner's manual. The manufacturer of your mower might not recommend sharpening the lawn mower blades.
For best results, always use quality oil and gas in mower. Check the owner's manual for recommendations. With use, you will need to occasionally replace belts, air filters, spark plugs and those types of items. You can get the OEM parts for your Toro mower or your Briggs & Stratten mower at our website.
References: