Today, lots of people are looking for ways to get several jobs done at once. We're all so busy that it's no wonder we need to multi-task. When it comes to yard work, this is especially true. No one wants to spend all day mowing, cleaning up, mulching leaves, edging and that sort of thing. These are jobs that all homeowners are familiar with but they're also labor-intensive chores that will get you sweating and sometimes cursing.
If you can find good lawn equipment that does more than one job at once, then it's definitely going to be on your Christmas wish list. A great mower that mulches leaves is one of those pieces of equipment all homeowners should have in the garage. One of the best mowers in this category is the Toro Recycler. If you're looking for a riding mower, Kubota can't be beat. Below, we go over all the perks and benefits of these mighty machines.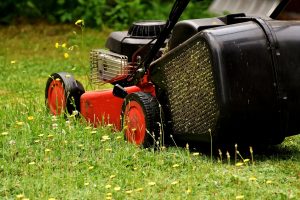 The Toro Recycler
If you're looking for a mower that can mulch leaves and grass clippings, the Toro recycler lawn mower is a great option. Mulching is a cinch thanks to its side discharge attachment and bagging mechanism. The Bahrns Equipment website sells the Toro recycler.
With this self-propelled lawn mower's powerful bagger, all grass clippings will be collected. The big rear discharge opening and enormous collection bag make mulching straightforward and effective. Toro's vortex technology and an ergonomic handle are two other advantages of this mower. It can handle challenging terrain and can be used to cut small to medium-sized lawns.
The Toro recycler features a personal pace control system which adjusts the mower speed according to the pressure you apply on the Control bar. It is compatible with the Toro snow master snow blower and has an integrated washout port for easy cleanup. This feature eliminates the need to tip the mower backward to wash out the blades. There is a safety stop button on the mower that stops the blade from turning while being cleaned.
Kubota Riding Mowers
Kubota has an excellent line of riding mowers that allow you to relax and enjoy yard work. They offer a number of attachments including a mulching attachment. Kubota's patented k-lift pedal and three blades will give you precision and efficiency. Many of these models are zero-turn riding mowers that will give you a professional looking yard. These are tough mowers that will stand the test of time and be a worthwhile investment.
At the Bahrns showroom, you can check out mowers, snow blowers, generators and other equipment from manufacturers like Toro, Briggs & Stratton, Land Pride, Stihl, and Echo. Whether you need equipment for home or commercial use, we have it. Since we're an authorized dealer for these major brands, we can offer dealer financing. Every sale is backed by our unparalleled customer service. We go the extra mile at Bahrns.
For a wide range of Toro and Kubota lawn and landscape equipment, Bahrns Equipment has just what you're looking for. We're the best place in Effingham, Illinois and surrounding areas, to locate dependable lawn mowers, tractors, construction equipment, chainsaws, blowers and many others. Stop by our showroom anytime to look around or visit our website.
References:
Best Riding Mower For Mulching Leaves – Justagric
"toro recycler" in Inventory Bahrns Equipment Effingham, IL (217) 342-2909