Benefits of Owning a Picnic Table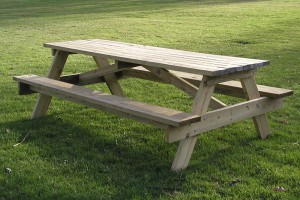 Nothing says summer has arrived like a traditional outdoor picnic. Whether you are cooking out in the backyard or providing your customers with a place to sit for a while, relax and enjoy the beautiful summer weather, picnic tables provide the perfect place to enjoy summer living.
Types of Picnic Tables
Picnic tables come in all shapes and sizes and can be composed of many different materials. For backyard use, many people choose the traditional wooden picnic table for its comfort and versatility. When you have a picnic table in your backyard, your family will be much more likely to enjoy their summer dinners dining in the open air.
For commercial use, metal picnic tables provide an excellent way to provide a delightful bonus for your customers. Metal picnic tables have the durability that provides years of usable life with very little maintenance. They are commonly purchased by park districts, schools and even private companies to offer an outstanding outdoor dining experience.
Concrete picnic tables are excellent for use near pools or lakes, in warm weather climates, or in places where tipping might become an issue. Because of their heavier weight, concrete picnic tables cannot be easily moved without a forklift, crane or other heavy-duty equipment. Concrete picnic tables also have the benefit of being resistant to weather and are nearly impossible for insects of other pests to nest in or for termites to damage.
"Green" Picnic Tables
Given the heightened interest in environmental awareness, picnic tables made of recycled plastic are becoming an increasingly popular option. Lighter weight but durable, these types of picnic tables are appearing more frequently in public parks and even backyards. Picnic tables made of recycled plastic also can be formed into any shape imaginable, so you aren't limited to the traditional rectangular picnic table and benches. This makes them the perfect choice for oddly-shaped areas or for improving the appearance of your outdoor or indoor dining area.
As the weather gets warmer and the sun stays out longer in the evening, consider adding picnic tables to your backyard or business. They are not only convenient and low maintenance, but they also provide the opportunity to create lasting memories for your family, friends and customers. Bahrns carries a complete line of all types of picnic tables and other outdoor furniture so you can create a unique and exciting outdoor environment that everybody will enjoy.