Farmers and others who have need for a tractor may opt to buy a brand new one when they think their old reliable has reached the end of its journey. The fact is, if you're the owner of a Kubota tractor, then odds are that machine has more life to it than you may realize. However, if you have no choice and you don't see how you can rely on old reliable for another five to 10 years, then consider replacing it with a used Kubota tractor.
Debunking Misconceptions About Used Kubota Tractors
Of course, when it's time to replace old reliable, the first thought in your head is to buy new. Anything associated with the word "old" may have the unfortunate inference that it no longer has value. That's not necessarily true when it comes to Kubota tractors.
If you think that an old Kubota tractor can no longer handle the load you've always given it, consider this. A well maintained Kubota tractor has the capability of doing valuable, heavy work for up to 4500 to 5000 hours. Some in the business of buying and selling old tractors claim that most of them are sent out to pasture after at 1,000 hours of work. Consider whether you really want to get rid of old reliable a bit longer. As the numbers indicate a used Kubota tractor may has as much as another 3500 to 4000 hours of valuable work still in it.
If you've decided to sell off your old Kubota tractor because your need for a tractor has changed since you original bought the old one, well maybe the sell off is justified. However, if you're considering replacement because you think that the tractor no longer has the mechanical capability that it once had, then think again. All that tractor may need is some new authentic Kubota OEM replacement parts and then it's working like new.
The truth is, Kubota is well known for the quality of its OEM replacement parts. There's a pretty good chance that Kubota has the replace part you need regardless of the age of your tractor.
If you've misplaced the manual, then contact Kubota USA for a new one. There is also a very good chance that the manual you need is available. With the manual you can apply your DIY expertise into turning old reliable into something close to a brand new model.
Of course, old tractors outlive their warranty, but there are Kubota dealers out there that can sell you a used Kubota tractor with a limited warranty. That warranty will give you the opportunity to fix anything that may be wrong so that it can last longer.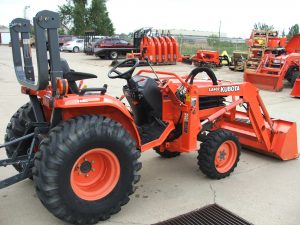 Another problem when considering the purchase of a used tractor is that notion that's swimming around in your brain that used is just another word for cheap. And "cheap" has a negative connotation.
Forget that idea when thinking about acquiring a used Kubota tractor. One reason for that is Kubota tractors have been powered by diesel engines for a long, long time. And diesel engines have a reputation for having a long life. You have the added advantage that a used tractor costs less than a new one and you can depend on Kubota's reliability that it will hold its value. In short, you'll get more bang for the buck.
One more issue that might be making you hesitate about buying a used tractor is that newer attachments can't be used with it. Actually, the new attachments feature three point hitch, which used Kubota tractors can accommodate.
So there you have it. A used Kubota tractor probably has more value that you think. By the way, Bahrns.com Lawn & Garden Parts offers Kubota OEM replacement parts, so you can turn to us to keep your Kubota tractor performing up to its potential.
(Source: humphreysoutdoorpower.com)