One of the best tools to have in your garage if you live up north is a snowblower. This is a must-have item and you can find them priced from around $400 to about $1200. Sometimes you do need all those bells and whistles and sometimes you simply need a very basic snowblower that gets the job done.
One thing to decide before shopping is whether you want a gas-powered snow blower or an electric start. This is totally up to you. Gas powered machines do require oil for the engine and they usually operate better if you use some sort of fuel treatment. Self-propelled machines require less effort. They make fast work of clearing walkways. Below are just a few of the best on the market.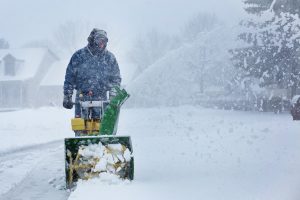 Toro offers a good mix of electric start and gas-powered machines. The standard clearing distance is 24 inches with a throw distance of 40 feet though you can easily find smaller or larger snowblowers. Larger machines have headlights. The self-propelled snowblowers require less effort. Prices range from $700 to $1200. Toro builds a heavy duty snowblower that will last for years with proper maintenance.
This battery powered snowblower only has a 12-inch clearing width (4-inch depth) but it's super easy to use. If you have a small yard or don't get much snow, then this would perfect for your family. The battery will recharge in 30 minutes and it has a 45-minute runtime. The motor is designed at the bottom, giving you greater traction. It's modestly priced around $300.
Cub Cadet 2X-26″ two-stage snow blower:
This two-stage gas snow blower has lots of energy saving features. It's solidly built and has a clearing width of 26 inches and a clearing depth of 12 inches. This machine will efficiently remove a significant volume of snow from smooth or gravel roads. It is a strong and dependable two-stage snow blower. The single-handed, four-way chute control enables you to adjust the direction and pitch of the snow as you're clearing. The main feature of this blower is its powerful, long-range LED dual headlights, which let you use it in low light conditions like dawn or dusk without being concerned about visibility. Priced around $1200.
Recommended for removing light to moderate snowfall of about six inches, this lightweight, strong snow thrower was made in the US. Even someone with limited physical strength may easily maneuver it thanks to its ergonomic design. Despite being smaller than previous models, it easily cuts through all types of snow. A more comfortable and maneuverable handle, the Deluxe Ergonomic Handle's E-Z ChuteTM lets you change the snow discharge's direction by up to 190 degrees. You can move snow at dawn or dusk without being concerned about visibility thanks to dual-LED headlights that increase vision in low light.
Safety and Health First
Each year, emergency rooms in colder climates see quite a few illnesses and injuries that are snow related. Sometimes people stay out too long trying to clear the driveway and just get exhausted and dehydrated. Take breaks as you work. Go in the house to warm up every half hour. Drink a big glass of water or Gatorade.
Winter can be a beautiful time to gather with friends and family in warm homes, restaurants or pubs. But it can also be a time when people have more accidents and illnesses. Stay healthy and have a great winter.
References:
Best Snow Blowers 2022 | Top Ten Reviews