There is a lot of pressure on warehouses today to be flexible about their floor space. More floor space allows for flexibility when it comes to catering to booms in particular products, especially during seasonal adjustments. As a result, many warehouses have turned to pick modules and rack support platforms as well as elevated work platforms to increase throughput as well as capacity in picking zones.
Safety When Proceeding With Elevated Work Platforms
If your warehouse has this style of set up, then you should be cautious about safety when it comes to loading and removing goods from elevated work platforms. Items can fall from elevated platforms and that can become a hazard for forklift operators as well as workers who perform their tasks walking through the warehouse. Warehouse managers should consider fall prevention measures that will assist to protect workers.
Things you can consider as prevention measures include guardrails. Guardrails located around the perimeter of elevated platforms or along walkways can be a good way to protect employees from falling merchandise.
However, guardrails aren't a perfect alternative. They can become an obstacle to forklifts that are being used to replenish products on the shelf. Most forklift operators perform replenishing activity by delivering loads to a pallet drop zone at an aisle-side ledge. The existence of a fixed guardrail in this location could inhibit operations.
Alternative Safety Equipment
As an alternative, you can select devices that can be temporarily removed to permit replenishing products to shelves.
The ANSI rule MH16.1 allows for several alternatives to fixed guardrails. Not only will these options offer accessibility, they will also assure safety for warehouse employees.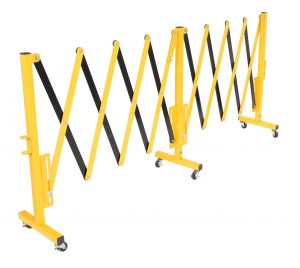 It is essential that the alternatives be equal in strength and similar to configuration with fixed guardrails. These alternatives can include:
• Removable guardrail section or removable chains.
• Guards that offer a constant shield from falling items. For example, a double-hung safety gate.
• A temporary guard the offers protection including a lift-out, sliding, swinging or pivoting gate with proper support framing.
In addition, ANSI regulation MH32.1, which deals with stairs, ladders, and ope-edge guards for use with material handling structures, allows for the use of industrial racking pick modules, industrial shelving pick modules, decked-over platforms, and free-standing work platforms.
More specifically, things that can be used in this case include:
• Safety gates that swing open to one side or include two interconnected protective barriers that rise, lower, slide, or pivot.
• Removable guardrail sections that include a personal fall-protection structure.
• Removable chains or cables for pallet drop zones. These items should include personal fall-protection structures.
An additional procedure to consider when assuring safety to workers and to structures is a training program for forklift operators that deal with loading and unloading from areas that can present a hazard. In addition, forklift drivers should be trained to alert fellow workers whenever they are working their lifts overhead. Beams at the elevated drop zones can be painted red or yellow to assure visibility of these areas for pedestrian workers.
(Source: mhi-blog)