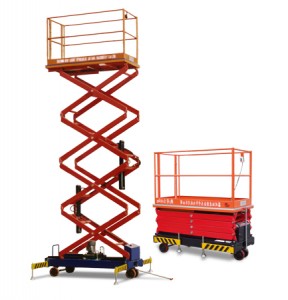 Aerial work platforms make it simpler to perform tasks at elevated heights. But by their very nature, aerial lifts are potentially hazardous. Even the smallest mistake by workers can result in a fall that could result in injury or even death.
That's why it's critical for workers to always follow aerial work platform safety procedures on each and every job. While they may add time to the task and can often seem cumbersome and even unnecessary, in the long run, they are there to protect the worker from harm.
It Begins with Training
Workers can't follow aerial work platform safety procedures if they don't know what they are. Management needs to commit to providing general product training, which usually is available from the aerial lift manufacturer, as well as specific on-the-job training that applies to real-world situations.
Training sessions should be conducted prior to the use of any equipment and should include both written and practical testing to ensure that the worker understands what has been taught. There also should be a certification process that allows management to prove that employees have received the appropriate training on the equipment that they are using.
Common Aerial Lift Mistakes
Training should focus on avoiding the most common mistakes workers using aerial work platforms make. These include:
Not being aware of potential hazards, such as potholes and overhead obstructions.
Modifying or overriding safety equipment in order to improve efficiency or save time.
Failing to perform a comprehensive equipment inspection prior to using an aerial lift
Not reading the owner's manual or being unfamiliar with the proper operation of a particular piece of equipment
The Right Equipment for the Job
Another common mistake is using an aerial lift that is not up to the challenges of the task. Before any job, consideration should be taken for the necessary height and reach, platform space for workers, and materials and tools that will be required.
The aerial lift's load capacity also should be considered. If the combined weight of the workers and equipment exceeds the maximum capacity of the lift, either the size of the load needs to be reduced or a more powerful lift needs to be used.
Complexity of the Task
Every task is unique, so the same approach isn't going to work every time. One of the first things that need to be done before starting any job is to conduct a mandatory walk-through to identify any potential obstructions, both at ground level and overhead.
Ground obstructions can include such things as obstacles that need to be maneuvered around, like trees, guard rails, lamp posts and other vehicles and equipment. Overhead obstructions can include lamps, wiring, support beams, roofs, and drop ceilings.
Using an aerial work platform safety requires managers and workers alike to recognize the potential dangers, understand the complexities of both the job and equipment, and adhere to safety standards and work rules at all times. Shortcuts will almost always lead to increased danger.