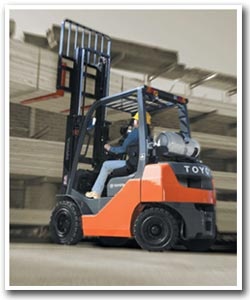 You could buy a prized race horse, but if you don't know how to ride it, you're not going to become a champion jockey. You won't win the Indy 500 by buying the fastest race car, either. When we look at races that are won, it is usually because of the driver, not the car. The same truth goes for forklifts-forklift operators must be well-trained. The forklift is only as good as the forklift operator
who is running it.
You could argue that if a forklift tips forward when the load is lifted high to be racked, it is because the forklift was not rated high enough to lift that heavy a load. However, the forklift operator should have checked the weight rating for the forklift before he or she attempted to move the load even one inch on the warehouse floor. If the lift is too small for the load, it doesn't belong in use in that area of the warehouse.
If the forklift operator doesn't understand how to interpret the weight rating on the lift's placard, then he or she doesn't belong on the lift until receiving proper training. Training your forklift operators is a serious matter. It should not be treated as an annoying formality. Maybe we hated taking Drivers Ed before we could get our licenses to drive cars, but we can't deny that useful content did exist in those boring classes.
Training forklift operators can be easily carried out by any qualified OSHA/safety officer who has some training of his or her own. If you have a large number of operators, it may be best to have a certified trainer among your employees. Buying any forklift from Bahrns includes options for training operators and training an actual trainer so you can continue to train your own forklift operators in-house.
You can keep supplemental training materials available for your operators and even require reviews between re-certification periods. This approach may seem redundant until you see some of the accidents forklift operators have due to simply driving too fast or from engaging in deliberate horseplay when standards are not upheld.
In a page-long list of reasons for forklift operator accidents published by the Canadian Centre for Occupational Safety and Health (Canada's equivalent to OSHA), the first item among many is lack of/improper training. Many other reasons on the list relate to poor training in terms of proper operating standards-specifically, excess speed. The same issues apply here in the states.
Even if no one gets hurt, a forklift accident can still be very costly. All it takes is a reportable accident that must be listed on your OSHA log and you insurance agent will likely deliver the bad news-your work place is judged as having more risks to human safety. That means you can pretty much plan on paying higher workers' comp rates for the duration of your next policy cycle, and possibly the next one, too. It makes no sense to take the chance.