Anatomy of a top safety training program
Hyster offers comprehensive, award-winning safety training guides
Hyster is one of the reputable brands of material-handling equipment sold by Barhns. Hyster equipment can be purchased with a comprehensive safety training program for equipment operators. Hyster's safety program earned the Aurora award last fall and is considered a comprehensive safety training program that meets OSHA and CCOSH requirements for safety training.
If you can find a training program for your material handlers that is based on the actual equipment your material handlers use, you will certainly have an easier time with training. It's been said time and time again that well-trained operators make fewer mistakes and have far fewer accidents. Lack of proper training tops the Canadian Center for Occupational Safety and Health's reasons for forklift accidents.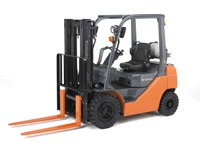 Hyster is not the only material-handling equipment manufacturer that offers full-fledged safety programs, and its program is not the only one that works well. There are some key features of Hyster's program that characterize a good program as created by any equipment manufacturer whose products may be right for your operation.
Some key features that make any safety training program strong include:
Programs that cover all classes of an equipment category. For example, there are five classes of lift trucks, so a comprehensive program will offer training and advice on safe operation of all five class types.
Convenient media modules and access. A user-friendly program will allow for easy downloads of course material, videos and exam materials. Hyster's program includes classroom materials and supporting links, as well as printable wallet cards and materials to document the completed training of material handlers who have been certified to operate equipment.
Sources:
MHI.org
https://www.mhi.org/media/news/12822
Canadian Center for Occupational Safety and Health
https://www.ccohs.ca/