When it comes to pallet racks, one size does not fit all. Choosing the right style pallet rack for your situation can increase your warehouse storage space by 40 percent or more. This assures that your warehouse remains flexible enough to change inventory needs when necessary.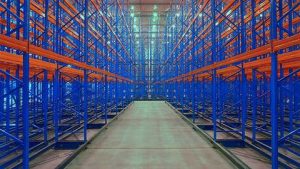 Selecting the proper style of pallet rack can be somewhat of a problem. Many tend to select the style based on price or versatility. That may not be enough for certain situations.
There are as many as six pallet rack styles. They include:
• Selective Pallet Rack
• Double Deep Pallet Rack
• Back Racking/Push-Back Racking
• Pallet Flow Racking
• Drive-In/Drive-Thru Racking
• Roll Formed Cantilever Racking
Selective Pallet Rack
The most popular and versatile of the warehouse pallet racking systems available, the selective pallet rack uses space efficiently and allows quick access to loads when using any type of forklift. It is debris-resistant, thus easy-to-clean and made of steel, which is best for food handling applications. It is also recommended for general warehouses.
Double Deep Pallet Rack
This pallet rack system is based on putting one row of selective racking behind another. It is the least expensive method for high-density storage application and may actually increase storage capacity of your warehouse by 40 percent. It is ideal for general warehousing.
Back Racking/Push-Back Rack Racking
In the case of push-back racks, pallets sit five deep on carts. Each pallet slides forward when a pallet in front is taken. This system allows for pallets to be fed and retrieved from on aisle, which helps reduce picking time. It is commonly used in general warehousing and is popular in food-oriented applications.
Pallet Flow Racking
Also known as gravity flow racks, this style is configured into sloping racks in a first-in/first-out loading system. Pallets are added to the top and taken from the bottom. This configuration allows for double or triple capacity when compared to drive-in or conventional pallet racking. It's perfect for freezer warehouses and food distribution centers. It also works well in perishable consumer goods applications.
Drive-In/Drive-Thru Racking
This style of pallet racking needs fewer aisles permitting a 75 percent increase in pallets than with a selective pallet racking system. In this case, forklifts drive directly into the racks that are six or more pallets deep. The drive-in rack configuration uses a common entry and exit area and the drive-thru system has separate entry and exit areas.
It also provides a number of benefits. For example, the drive-in/drive-thru system is the most high-density storage alternative there is. In addition, these racks feature welded frame construction and is very strong. Racking for this configuration also include either roll-formed or structural steel components with arm and rail combinations. It holds more loads, reduces space costs, and is functional. This solution is ideal for large-volume storage situations of similar products. It also works well for general warehouses.
Roll Formed Cantilever Rack
If there are no aisle uprights to obstruct the use of horizontal storage, then a cantilever racking system is ideal for storing longer, bulky items including carpet rolls, furniture, lumber, tubing, tires, textiles, piping and other similar products. This racking style features adjustable lock-joint pin locks that are strong and safe. They also permit easy height adjustment. Accessories included with this style of pallet racking are drip-in decks and spring-loaded entry guides, which help to assure safety and better protection. These racks are made of roll-formed or structural steel.
(Source: tmhnc.com)