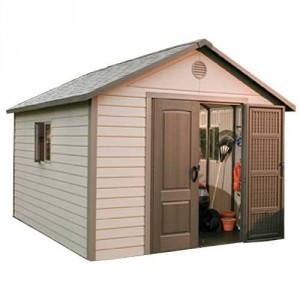 When it comes to running a business profitably, every penny counts. Every square foot of interior work space needs to add to the bottom line. Paying to keep inventory or supplies in a heated and maintained indoor facility may not be the most cost effective use of your resources.
Moving materials such as lumber, inventory, or building supplies to outdoor storage facilities such as sheds, tents or under tarps can often free up valuable indoor space for more profitable use. Today's outdoor storage solutions offer protection against even the harshest elements — from extreme heat to freezing cold — while simultaneously providing safe, secure storage for excess inventory, supplies or other materials until they are needed.
Several different types of external storage solutions are available, depending on the specific needs of the business, including:
Storage Sheds — Industrial grade storage sheds come in a variety of different sizes and materials, from sheds small enough to house riding mowers or landscaping equipment to enormous prefabricated buildings that can provide shelter and security for heavy equipment and vehicles. Storage sheds can be customized with lighting, HVAC, and security equipment such as security cameras and motion-activated flood lights.
Canopies and Temporary Shelters — For short-term protection from elements such as rain, snow and direct sunlight are required, canopies and temporary shelter offer an affordable solution that can be set up and broken down wherever and whenever they are needed. This makes them ideal for such uses as sunshades, response/relief shelters, or promotional events.
Quonset Huts — These durable storage sheds can be made from lighter materials such as canvas or plastic or heavier-duty materials such as aluminum. Because of their unique shape, they are ideal for storing inventory, supplies or other materials that require protection from rain, snow or sunlight. They provide more durability than tents or storage sheds while offering mobility and flexibility.
Outdoor Shelters — Shelters made of a combination of glass, plexi-glass, durable plastic or metal offer the ideal solution for outdoor smoking areas, bus stop shelters, and other employee uses. They come with both domed or flat-roofed designs to provide optimal efficiency to fit any budget. Usually, they are permanently anchored into a concrete base for long-term durability and extended usable life and feature replaceable module parts for easy maintenance.
Tarps — In some cases, a simple tarp tied with durable rope or chain is enough to provide the protection you need while freeing up valuable interior space for more productive use. Tarps made out of heavy-duty plastic, canvas or other materials provide a barrier between materials and the elements while offering the least expensive solution to external storage.
Clutter and cramped working
conditions are the enemy of productivity, so anytime you can safely and securely move inventory, supplies or other material out of your work area and conveniently locate them at a nearby outdoor storage site, the better you can improve the efficiency and profitability of your operation.
Bahrn's offers a complete line of outdoor storage solutions to fit any budget or need. Check them out here and start improving your business's operations at the most affordable prices anywhere.