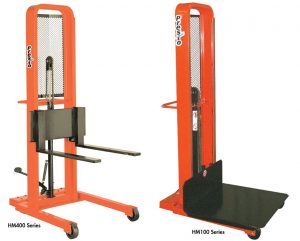 Running a warehouse, distribution center, dock, or any other type of materials handling business is practically impossible without the right equipment. Lifting and moving boxes, pallets, and equipment manually isn't just unsafe, it's also inefficient.
But when a business is just starting out, it's not always possible to spend a fortune on powered equipment like forklifts and pallet jacks. Fortunately, there's an affordable option that will still get the job done.
Manually Operated Lifts
As the name implies, manually operated lifts are powered by human muscle. Many feature foot activation that makes it easy to lift even the heaviest loads quickly but safely.
Yet manually operated lifts still offer the power of hydraulics for lifting heavy materials like cases of products or palletized boxes. Many work using the same principles as an automobile jack, using the force of muscle to lift materials incrementally — with a little help from interior hydraulics.
Unlike forklifts or power jacks, there are zero fuel costs for manually operated lifts. So you don't have to worry about storing flammable gas tanks or taking your primary materials handling equipment out of service for recharging. With manually operated lifts, you are always ready to go.
For small businesses that are just starting out, manually operated lifts can be the best solution to their material handling requirements. They often cost a fraction of what businesses would spend on forklift or power jacks. And they are often affordable enough that they can be bought outright rather than entering into a long-term lease agreement.
Mobility and Productivity
Besides their affordable price tag, another benefit of a manually operated lift is its versatility. Many are narrow enough to fit through standard door frames. So they are ideal for working in smaller work areas.
They also are mobile enough to be used in crowded work areas. And because they don't take up a lot of storage space, there is more room for warehousing products and materials.
Manually operated lifts come in a variety of sizes and styles so you can choose the right one for your specific needs. Even with the smallest pre-opening budget, many businesses can afford to purchase one or more of these helpful, efficient, and productive materials handlers that can instantly improve your operations.
As your business grows, your materials handling equipment can grow with it. In the meantime, small businesses on a budget can still be versatile and mobile with manually operated lifts.