Self dumping hoppers by MECO can provide your work place efficient solutions for durable product handling in bulk and the simple answers for waste disposal. Any industrial or commercial business that deals with what seems to be massive amounts of bulk products or has large quantities of waste will benefit from a MECO self dumping hopper. The hopper is designed to fit on to a forklift for larger loads and easy maneuverability. Now, those large loads of garbage can simply be thrown into MECO's self dumping hopper, loaded onto the forklift and driven to the dumpster rather than small load after small load being taken out by employees, taking up both man power and time and wasting valuable energy.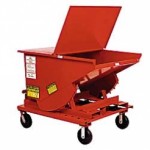 Self dumping hoppers are made with precision to empty on their own. Once the hopper has been filled to capacity, a forklift can slide right into the holes beneath the bin. Then, the forklift can be driven to wherever the material inside of the hopper needs to go, and raised to the appropriate height. The hopper is designed to tip itself over, emptying the contents out onto the area below, be it a dumpster or another area for storage. This simple procedure has been a revolutionary one and business everywhere are finding themselves taking advantage of self dumping hoppers by MECO.
There are different classes of. Medium duty self dumping hoppers by MECO have a two thousand pound weight capacity while heavy duty ones have a weight capacity of up to four thousand pounds. Recently, MECO has made several changes to their self dumping hoppers to further produce the efficiency they already provide. For one, MECO now offers watertight interiors for no additional cost. While the welded steel of the hoppers already provided resistance to leakage, these new interiors guarantee that nothing will be leaking as it is taken to its designated area. New hinged lids have been added to provide more accessibility. Welded center hinges, front and middle hinges provide both front and back access to make life easier. MECO also recently released a self dumping hopper that tips a full ninety degrees. It tips and resumes its neutral position as easily as the original unit, but the ninety degrees ensures that the full contents of the self dumping hopper will be emptied.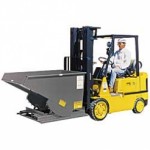 Along with the medium and heavy duty hoppers, MECO offers several other variations on the self dumping hopper. They offer allow profile dumper. This model is perfect for workspaces where space constraints may be an issue or height restrictions may be lower. A heavy duty low profile MECO self dumping hopper is also available for larger loads in smaller spaces. These hoppers are perfect to place under a press or conveyor or any other location where space is valuable.