Revamp material handling equipment for less than buying new
In our consumer culture, we're obsessed with buying new-not buying new things-just buying things that are new. We're talking about necessary purchases-in the material handling industry it can mean any part of your packing line. We want the latest and the greatest, which in the past always meant buying new equipment.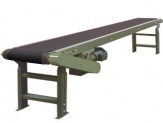 Supply Chain Digest tells us, however, that it makes much more sense to revamp existing equipment, and that the sensible choice will lead to saving and making more dollars. There are a number of keys reasons revamping is better, says Supply Chain Digest editor Cliff Holste, who has over 30 years of experience in material handling and supply chain solutions.
Most equipment is already designed to be adapted to most packaging sizes and weights
Cliff tells us that on packing lines, changing roller sizes is the customary approach toward adapting the line to a new package size and weight. What many overseers of material handling operations may not realize is that most machinery is already designed so that rollers can be changed to adapt to package sizes, and that it is usually not necessary to buy a whole new set-up.
Skilled maintenance technicians can usually retrofit existing equipment, and the costs of doing usually run 60 percent lower than the costs of new equipment. Furthermore, retrofitted equipment can easily boost efficiency by 15 to 20 percent. Retrofitting also helps you bring your equipment into compliance with newer codes and regulations, especially OSHA codes, which are applicable to all your machinery. OSHA auditors won't let you slide because the folks who made your equipment didn't put guards on them even if they were required by law. Retrofitting gives you the opportunity to do this, and for a lot less than buying something new.
Other common-sense solutions to high costs
A lot of equipment wouldn't break down if its owners simply performed preventative maintenance in a timely manner. Skipping regular PMs to save a few lost production minutes will inevitably result in unpredictable break-downs, which end up costing you production time anyway. Wouldn't it beneficial you could schedule your break-downs for the least-busy days?
If you schedule PMs when they need to be done, you will have far fewer break downs, Cliff reminds us; you can quantify the costs of the scheduled down time and not have to wonder how much a breakdown of your material handling operation is going to cost you.
How to measure efficiency over the long term
Ordinary PMs may not solve every efficiency issue. You also need t evaluate your efficiency rates when the machines are all humming. Conducting regular performance audits will help you get to know your operation in a new way-you can examine sorting efficiency rates, packaging efficiency rates and so forth in order to find what parts of your material handling operation are best and which are worst. Be sure to use an auditing method that gives a clear and inclusive picture of your material handling operation and then conduct performance audits regularly.
Source:
Supply Chain Digest (Supply Chain Dgest.com)
https://www.scdigest.com/EXPERTS/Holste_13-02-13.php?cid=6730