Are You Wondering What A Caster Wheel Is and Where It Is Used?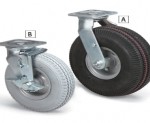 A Caster or castor is a kind of wheel made intended for mounting at the bottom of a large object. This is for the purpose of making the object movable at the desired space. It is used in chairs, tables, cabinets, material handling equipment, carts and others. Casters are available in different sizes. It is made of aluminum, stainless, plastic, rubber and nylon.
There are several classes of casters such as rigid casters-attached to a stationary fork,  swivel caster-also mounted to a fork but with an additional swivel joint, breaking and locking casters-most common of all the casters  and caster  flutter-mostly used in shopping carts.
The ideal size of the caster depends upon how large and big the object it needs to attach and where it will be used. For bigger load capacity, a larger caster wheel is recommended. Try to link to this website and know more about caster wheels and choose the ideal one for you.