Levelers Ideal As Part Of A Safe Dock
When truck manufacturers design and make their trailers, they aren't thinking about whether or not it is of proper height to accommodate loading docks. As a result, there could be a gap between the trailer and the warehouse floor that is an accident waiting to happen.
The way to remedy this problem is to invest in dock levelers. The item serves as a bridge over the gap by balancing the height and distance of the floor and the trailer. This assures safe loading and unloading.
There are a number of styles of levelers to consider when selecting the proper one for your situation.
The most popular style of dock levelers include:
• Hydraulic Dock Levelers
• Mechanical Dock Levelers
• Air-Powered Dock Levelers
• Edge Of The Dock Levelers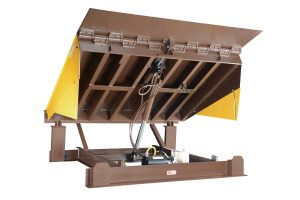 Hydraulic Dock Levelers
Stored in a pit in the dock, the hydraulic dock leveler features a push-button control so that dock staff can activate it. Hydraulics lift it to supply a smooth transition between the dock floor and trailer. The hydraulics position the lip and platform. This particular style of leveler is low in maintenance and high in dependability.
Hydraulic dock levelers are perfect for high volume docks in heavy traffic facilities. They are sturdy and constructed for intensified use.
This style of leveler avoids breakdowns that can occur with mechanical and air systems.
Mechanical Dock Leveler
The selling feature of this style of leveler is that it's easy to use. The dock staff manually pulls the leveler and a platform rises from a stored position. Ergonomics assures a consistent smooth appearance.
Considered an economical option, this style of leveler does not need a power source. Because of its safety features, they may cause 'stump-out' issue that occur when it can't move down to accommodate the movement of a trailer bed. If saving money is your biggest concern, a mechanical leveler can provide the best option.
Air-Powered Dock Levelers
This style of leveler is similar to hydraulic levelers. A push-button operates an inflatable airbag that raises the leveler. It requires more maintenance than a hydraulic leveler and the airbag requires cleaning. Air levels feature a safety leg system, so they may experience the same type of stump out issues that a mechanical leveler experiences.
This style of levelers have fewer components than mechanical levelers. As a result, many dock managers believe they are more reliable. However, they have more moving parts than a hydraulic leveler.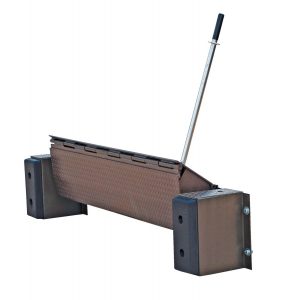 Edge Of The Dock Levelers
This style of leveler are available in both hydraulic and mechanical. It is best suited for low-volume facilities. It is a simple device that is positioned between the dock and truck on the edge of the dock. It works best with trucks that have a minimal height difference.
This leveler is ideal for applications in which there is limited space around the dock. With this leveler, there is no need to move or store portable plates to achieve dock positions.
They are designed to suit standard loading dock heights with highway trailers.
Considerations When Choosing A Dock Leveler
If you're in the market for a dock leveler, then there are a few things you need to keep in mind.
• Maintenance costs. A dock leveler may appear cheap in the short run, but cost more than expensive alternatives in the long run. Consider long-term maintenance costs as you check out the different styles of levelers.
• The loading dock. You should consider the equipment and vehicles that frequent the loading dock, loading capacities, and loading schedule.
• Dependability. It's best to evaluate the design, quality and strength of the leveler before you commit to one.
• Safety. This should be priority one when considering levelers. Be certain that no matter what style you select, it has the features required to operate safely.
Tips On Using A Leveler
Once you have selected your dock leveler, consider these guidelines when using it.
• Always check the load capacity of the dock plate and account for the weight of the load, the forklift, and any employees who are moving the load.
• Exam the dock plates regularly for signs of wear, corrosion, or material failure.
• Place the dock plate with at least 8-inches of overlap on each end.
• Don't drop dock plates when positioning and moving them. Minimizing movement and wear at the edges assure the leveler's longevity.
• Lower the hydraulic cock plate to ground level when not in use.
• Paint the edges of the plate and consider a lip to prevent forklifts and people from falling off.
• Keep oils, grease, and spills away from the plates. If they are spilled on, clean immediately.
(Source: tmhnc.com)