Increasing Warehouse Space for Less, Part 3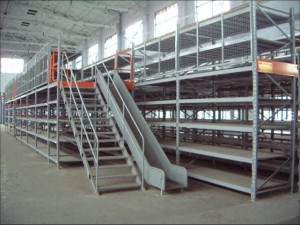 Editor's Note: This is the last in a series of blogs examining the benefits of work platforms in warehouse and manufacturing facilities.
Work platforms offer warehouse operators a fast, efficient and affordable way to increase their existing warehouse storage space. But they also can be used for a wide variety of operations.
Picking operations, value-added services, sorting systems, slow-moving inventory storage, fast-response processing and other functions can all be facilitated by work platforms. That's because they offer the full functionality of new construction or the addition of a mezzanine or other renovations to existing facilities without the expense or downtime.
Versatile and Sturdy
Work platforms are rated to hold a wide variety of tonnage, making them ideal for both storage and also light or even heavy manufacturing equipment. They can be used by employees or just equipment, depending on the facility's specific needs.
Another use for work platforms is to clear up floor space so that forklifts and other equipment can move more freely. Manufacturing facilities that use conveyors as part of their process often provide a logistical nightmare in terms of navigating the facility. But in many cases, those conveyors can be transferred to overhead work platforms, allowing free movement and increasing productivity.
Tripp Eskridge, senior vice president of Jones Lang LaSalle, a Chicago-based industrial real estate development firm, said he frequently recommends that his clients consider utilizing work platforms to streamline operations.
"Conveyors are a natural fit, but slower movers can also go there," Eskridge recently told DCVelocity.com. "It's a matter of how it fits into the entire operation of a facility."
Applications for Manufacturing
Even highly automated functions can be diverted off the facility's floor and onto overhead work platforms. Given their durability and strong, structural steel, work platforms can support heavy storage units, including vertical lift modules, carousels and shuttle systems, so that the maximum amount of product can be stored using the minimum amount of valuable floor space.
Another use for work platforms is for picking or packing areas for order fulfillment. Or they can be used to handle overflow product during peak periods or seasonal products that are only going to occasionally need to be held before being shipped out into the supply line.
Specializing in Work Platform Solutions
If you are ready to explore how work platforms can increase the productivity and efficiency of your warehouse or manufacturing facility, Bahrns is ready to help. Our experienced, professional technicians can help you find the work platform solution you need from selection to installation.
Given their versatility, affordability and the way they can be adapted to facilitate any changes in your operations, work platforms offer your business one of the most beneficial opportunities to streamline operations, reduce costs and add to the bottom line.